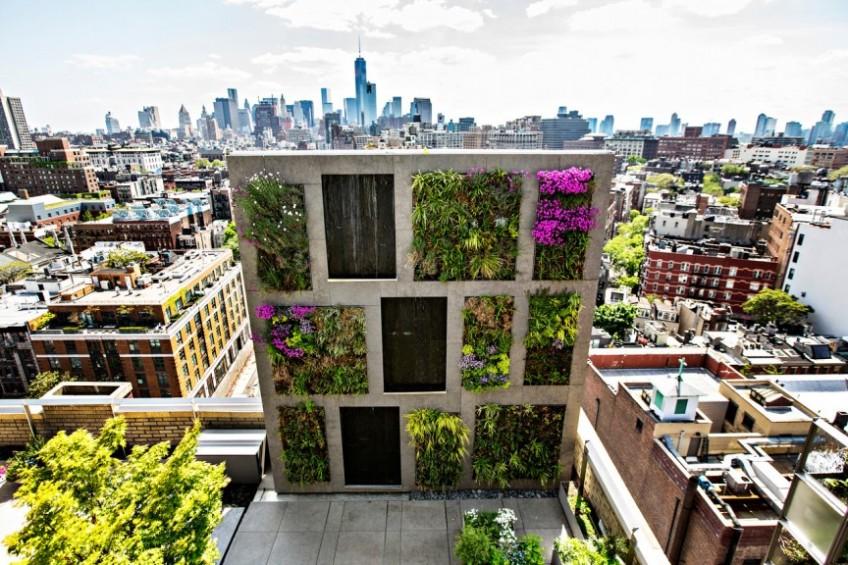 Whitcomb Roof Terrace was featured in the WSJ's MANSION: Lavish Gardens Sprout Up on Luxury Penthouse Roofs
David and Henrie Whitcomb's vertical garden redeemed a chunk of unusable space on their 2,500-square-foot wraparound terrace in New York's Greenwich Village. Their penthouse, which public records show was purchased for $8.7 million in 2007, had "a great big 15-foot-high, 15-foot-wide ugly tan brick wall" that ruined the view from the master bedroom, said Mr. Whitcomb, who founded Automated Trading Desk, one of the first high-frequency trading firms.
The Whitcombs, who own a second home in Hawaii, couldn't tear down the wall: It is the 1928 building's chimney. So they transformed the eyesore into the centerpiece of their terrace garden, which also features a grove of Japanese maple, gray birch and serviceberry trees, and an evergreen that can be pushed on a built-in track to a prime spot at their living room window at Christmas.
During the 26-month remodeling project, the Whitcombs' architect, John Tinmouth, and landscape architect, Linda Pollak, designed a wall of panels with a water feature and recessed slots for 600 plants to bracket to the chimney. Future Green Studio, a New York-based firm specializing in green roofs and green walls, embedded the panels with ornamental grasses and trailing plants in shades of green, silver and purple. The plants are watered by a drip irrigation system.