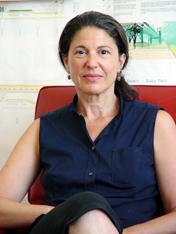 Linda Pollak is a founding partner of MPA. Her firm has won numerous awards from the AIA, ASLA, EDRA, HUD, The Architecture League, Design Share, and other organizations, and was one of the League's New York Designs firms in 2009. MPA's work has been widely published and exhibited, including at the Graham Foundation in Chicago, Campbell Hall Gallery at University of Virginia, SF MoMA, and Center for Architecture in New York. The firm's current work includes both urban and architectural projects, two of which are part of the New York City Design + Construction Excellence Program.
Widely-published author of essays in books and journals, Linda co-authored the award-winning Inside Outside: between Architecture and Landscape, which received grants from the New York State Council on the Arts, New York Foundation for the Arts, the Graham Foundation for Advanced Studies in the Fine Arts, the National Endowment for the Arts, and the Milton Fund of Harvard University. She has received the American Academy in Rome Fellowship in Architecture, the Harvard University Wheelwright Fellowship, and Design Trust Fellowships.
Linda received her Master's Degree in Architecture from Harvard, where she also studied Landscape Architecture, following undergraduate work in Environmental Design and Plant Science. A member of the faculty of Architecture at Harvard Graduate School of Design from 1992 to 2004, and Rhode Island School of Design from 1988 to 1992, Linda has dedicated herself to full-time practice in New York City since 2004, participating in civic initiatives, including Fit City and NYC Active Design Guidelines. Linda serves on the board of Storefront for Art and Architecture and Design Trust for Public Space.